Increase your profit and lower your environmental footprint in a data-driven way via crop nutrition optimization with our unique scientific-based crop nutrition Decision Support System (DSS). We use state-of-the-art technology, data insights about the local environment, and expert knowledge to optimize your crop nutrition management. We empower agronomists and agriculture professionals with the most accurate, science-based crop benefits and agronomic decisions to drive sales and optimize crop yield and nutrition.
Make data-driven decisions based on global and regional trends to optimize crop yield, quantify sustainability assessments, and evaluate product performance and corresponding product sales
We are here to help you build stronger relationships with your customers. That's why we've developed a state-of-the-art digital agronomist tool that will enable you to work directly with them in the field.
Our Digital Crop Advisor solution gives field agronomists instant access to all your product listings so they can create the best crop nutrition management plans for your customer's fields. Optimize your customer's yield and quality by showcasing your products as trusted partners.
Growers can now rely on field agronomists to provide tailored, crop nutrition optimization with customized plans of crop-essential nutrients and achieve better yields and quality. Our digital agronomist solution creates a digital experience for the grower by allowing field agronomists to provide unique production recommendations that deliver results.
With a complete overview of the company operations worldwide, you'll be able to see the specific customer operations and corresponding agronomist sales. Filter the easy-to-use dashboard by location, crop, product, sales, and more to evaluate your company's business.
We know how important your growers are, and that you want to make sure they have all the tools they need to grow healthy, thriving crops. When equipped with the right digital tools, field agronomists have a better chance of predicting problems early, minimizing yield losses, and enhancing crop quality for every growing season.
Suitable crop nutrition management allows you to get the best value out of your crops with our science-backed nutritional plans containing all the crop-essential nutrients. Your grower's yields will be maximized, and you'll be able to decrease the cost of resources and calculate your carbon footprint in real-time.
Gain full oversight into your crop production with deep insight into yields, quality, and carbon emissions. Optimize your operations to better respond to changing market conditions, such as rising input costs and commodity prices.
View real-time status and fluctuations of all your operations worldwide, with a detailed overview of field locations and crop coverage. Filter by location and date to easily find what you need.
Easy-to-implement and verify crop nutrition protocols
Enhance crop protocol management with recommendations from our 12 scientifically-proven crop nutrient data profiles, enabling efficient crop nutrition optimization. With easy analysis and reporting, as well as unbiased product catalog-based recommendations, it's simple to find optimized solutions for your most important crops.
Create nutrition plans, including controlled release fertilizers for over 150 crops for better yields and quality, with a clear view of the nutritional distribution along the different phenological stages of crops.
Verify fully-customized crop nutrition protocols with one of the fastest and most accurate software tools on the market today. Rapidly integrate field boundaries and start optimizing your crop nutrition management quickly, accurately and efficiently.
Our integrated crop nutrition decision Support System is equipped for your global team – available in different languages and across multiple devices. It helps you achieve successful results by allowing you to track lab analysis, maintain a paperless environment and maximize your ROI.
Leverage big data insights for sustainable crop nutrition
Be confident in providing your growers with actionable nutrition plans that not only optimize crop yield and quality, but also encourage sustainable agriculture practices. Our science-based approach leads to better results for growers and for the environment.
Our crop nutrition optimization solution provides sustainable nutrient recommendations per each plan created, based upon the unique carbon footprint analysis of that plan. This allows you to quantify and compare sustainability KPIs (carbon footprint, nitrogen leaching) for customers with other plans developed in the past, or in other fields using our technology.
You can run various simulations while our algorithm correctly adjusts crop nutritional needs,  compare recommendations, and understand the tradeoff between maximizing yields and minimizing detrimental environmental effects.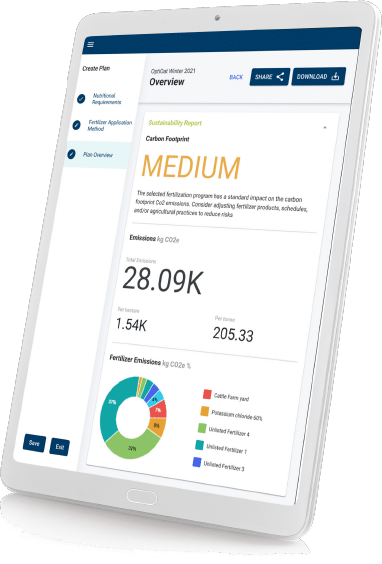 Coming Soon
Coming Soon
Coming Soon